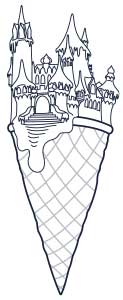 FOR FIVE GENERATIONS
Passion for ice cream
---
We have been a family business for five generations. Around 1919, one of the ancestors of the Gijzen family discovered the wonders of making ice cream. His passion for ice cream has been passed on from generation to generation, resulting in the IJspaleis that we are today.
We innovate every day and our innovative and varied ice cream creations make the difference in the ice cream market. Whether it's our own brands, Patissier, Boerderijs and SprimFruits, or our private labels.
CREATING ICE CREAM FROM THE FRONT ROOM
---
The creation of the IJsplaleis
---
In 1942, the Gijzen family first started selling the ice cream they made. They did so in a cosy ice cream parlour in the front room of their home. Later, they sold their ice cream door-to-door with an old-fashioned carrier bicycle and in a cafeteria that became very popular with ice cream lovers. The success of the Gijzen family did not go unnoticed and the ice cream dream was expanded into a true ice cream palace.
In 1970, the family went a step further and started specialising in frozen products. In addition to their famous ice cream, they started selling bitterballen (crunchy deep-fried meatballs) and frikandellen (type of minced-meat hot dog). ). It soon became clear that there was a market for this and the project grew into the Vriesverse Thuisservice, which went from door to door with its own trucks to deliver the tastiest frozen specialities to your doorstep.
SUCCESFULL ICE CREAM PRODUCER
---
ICE CREAM WILL ALWAYS REMAIN
In 2015, we decided to sell Vriesverse Thuisservice in order to focus entirely on the product that started it all: high-quality consumer ice cream. And we still do, because as a family, we love good ice cream every day!