Heart for
the environment
It goes without saying that we do our bit for the environment.
Heart for the environment
---
It goes without saying that we do our bit for the environment For example, we use 100% sustainable electricity, which we partly generate ourselves using many solar panels on our roof. And of course, we select our ingredients and packaging with the greatest care.
Many of our ingredients are certified by Rainforest Alliance or Fairtrade. And our packaging is made of recyclable cardboard or material with an FSC certificate. We are proud to be recognised nationally and internationally as a sustainable company.
Care for people and animals
---
The welfare of people and animals is important to us. That is why we are careful when selecting the animal products we use. For example, for Boerderijs we use full fat yoghurt and fresh milk and cream, with 100% organic and natural ingredients.
We choose our suppliers with care and know exactly where our ingredients come from.
"When creating our contemporary ice cream concepts,
we always take our surroundings into account.
We think that is only normal. We have an eye for the environment, people and animals.
For us, this is just as natural as delivering quality."
~ Wally Gijzen, CEO IJspaleis ~
We are a nationally and internationally recognised company
SKAL Skal Biocontrole is a supervisory body dedicated to the demonstrable reliability of organic products in the Netherlands.
International Featured Standards guarantees the standard for food safety.
Some products are excluded from the scope of the IFS Food Assessment and exclusion details can be provided upon request.
The meadow milk certificate ensures that products are made from meadow milk. This means that the milk that is used comes from farms where cows are out on pasture for at least 120 days a year, for at least 6 hours a day.

British Retail Consortium is a food safety and quality certification programme.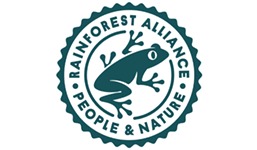 Rainforest Alliance is a hallmark for products from farmers who care about people and the environment.

Fairtrade is committed to a sustainable future worldwide by helping farmers in developing countries find a place in the trade chain.